Are you looking to gain clinical experience before medical or PA school? Click here to learn how to gain valuable clinical training before heading to school.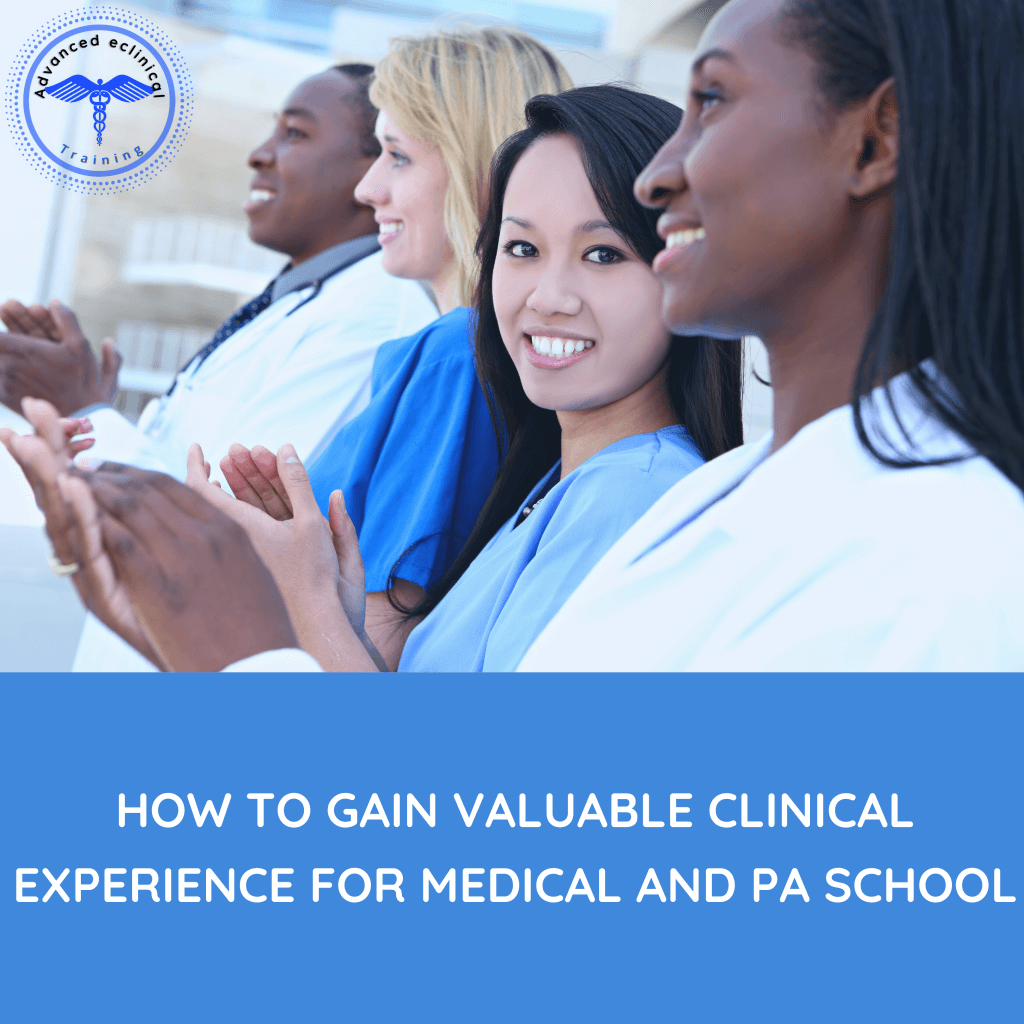 Over 23,000 students applied for medical school last year. Only a small percentage are accepted into prestigious universities, and one of the deciding factors is how much clinical training you have.
But how do you gain clinical experience to go to medical school or PA school? Shadowing offers you some benefits, but it's not the same as being involved and having a hands-on experience.
If you're looking to apply to medical school and need some experience, here are eight ways you can buff up your application with clinical training.
1. Medical Assistant
A clinical medical assistant (CCMA) is one route you could take to gain clinical experience. A medical assistant has many duties such as patient care, taking blood pressure, keeping records, filing, and interacting with patients. They are under the discretion of doctors and nurses.
Medical assistants work in a variety of clinical settings from doctor's offices, private practices, government health clinics, and more. Not all medical assistants choose a clinical path and many works in an administrative setting.
To work as a medical assistant and gain experience in medical school, you'll need CCMA certification, which allows you to work. You can gain an Online CCMA certification in as little as 8 weeks and get started on your health career.
2. Paid Caretaker
Paid and unpaid are two types of clinical experiences. When it comes to being a caretaker, some programs offer payment for caring for ill family members. This could be an opportunity for you to become familiar with giving medications, making doctor's appointments, and providing general care to your family member while gaining pay and experience.
Sharing in someone's illness first-hand is one way to develop an empathetic outlook for future patients. When medical schools look at your applications, direct patient care is a huge asset.
3. Pharmacy Technician
Pharmacy technicians work closely with pharmacists and customers to assist will a variety of needs. As a certified pharmacy technician, you'll have duties like filling prescriptions, ringing out customers, ordering supplies, updating patient records, and taking inventory. To gain this type of experience, you can work in nearly any pharmacy as long as you are certified.
While you may not get direct clinical experience, if you're interested in working as a pharmacist, this is one of the best places to get a feel for the environment.
4. Patient Care Technician
A patient care technician or PCT is similar work to a medical assistant but with much more patient care. PCTs work directly with patients doing several tasks like taking blood pressure, managing patient records, collecting specimens, transporting patients, and interacting with the patients. They work alongside nurses to advocate for excellent patient care.
A PCT works in many different clinical settings such as hospitals, nursing homes, and assisted living facilities.
5. Research Assistant
If you're interested in gaining experience in the field of research, you might enjoy working as a research assistant. A research assistant works in a research facility supporting professional researchers. In a day's work, they may create charts and graphs, analyze and collect data, proofread reports, care for laboratory equipment, and more.
While most of the work as a research assistant is done in a lab or office, sometimes you may venture out into fieldwork. Most research assistant jobs require a bachelor's degree in a related field of research.
6. Volunteer
Volunteers do not get paid, but if you need the hours, there are many clinical areas and places where you can get volunteer work. Hospice is a great place to volunteer because you gain experience in dealing with the death of a patient, which can be a stressful time for medical students.
Another great place for volunteering is with an emergency medical technician or an EMT. EMTs have a fast-paced work environment, so you'll gain experience in understanding how quickly things move in a clinical setting. You'll also learn more about different medical conditions and how they're handled.
7. Certified Nursing Assistant
A certified nursing assistant or CNA works alongside a nurse assisting with a variety of duties. Being a CNA is a great way to prepare yourself if you're interested in going to nursing school. You'll perform duties like bathing patients, getting medical supplies, wound dressing, checking patient vitals, helping with basic patient hygiene tasks, and doing minor paperwork.
Becoming a CNA is achievable and affordable. Many community colleges offer these courses. It's a great way to get your foot in the door with the medical community with relatively little cost and time.
8. Hospital Scribe
Sometimes called a medical scribe, a hospital scribe typically works in an emergency room and records information or data for the physician. They record interactions between the physician and the patient for records. The main purpose of having a scribe is so the physician can focus completely on patient care without having to worry about documenting information.
This is a great position if you're interested in a more administrative role in healthcare, as scribes typically don't have one-on-one care with patients. They must have excellent written and communication skills and vast knowledge of medical knowledge is also preferred.
Online Certification Programs
For many clinical positions, you need to be certified, such as a medical assistant certification. Getting this certification can take many years and costs extra in addition to paying for schools. Finding time to study and take certification courses is challenging for a medical student, and may hinder you from getting the jobs you need for experience.
Online certification programs can provide these much-needed certifications at a fraction of the cost and time. When you work at your own pace and from the comfort of your own home, you can achieve these certifications and have easier access to the jobs you're looking for.
Start Your Clinical Training Today
Clinical training and experience are not hard to come by. Trying a variety of positions can help you solidify which area of the medical field you decide to pursue. What clinical setting stands out to you?
Do you need certification to begin your clinical training? We can help you get there in less time than it takes during school. Check out our certification online courses today!