Are you exploring different allied health career options that might be right for you? Click here for a comparison of CCMA vs CPCT to learn which might be right for you.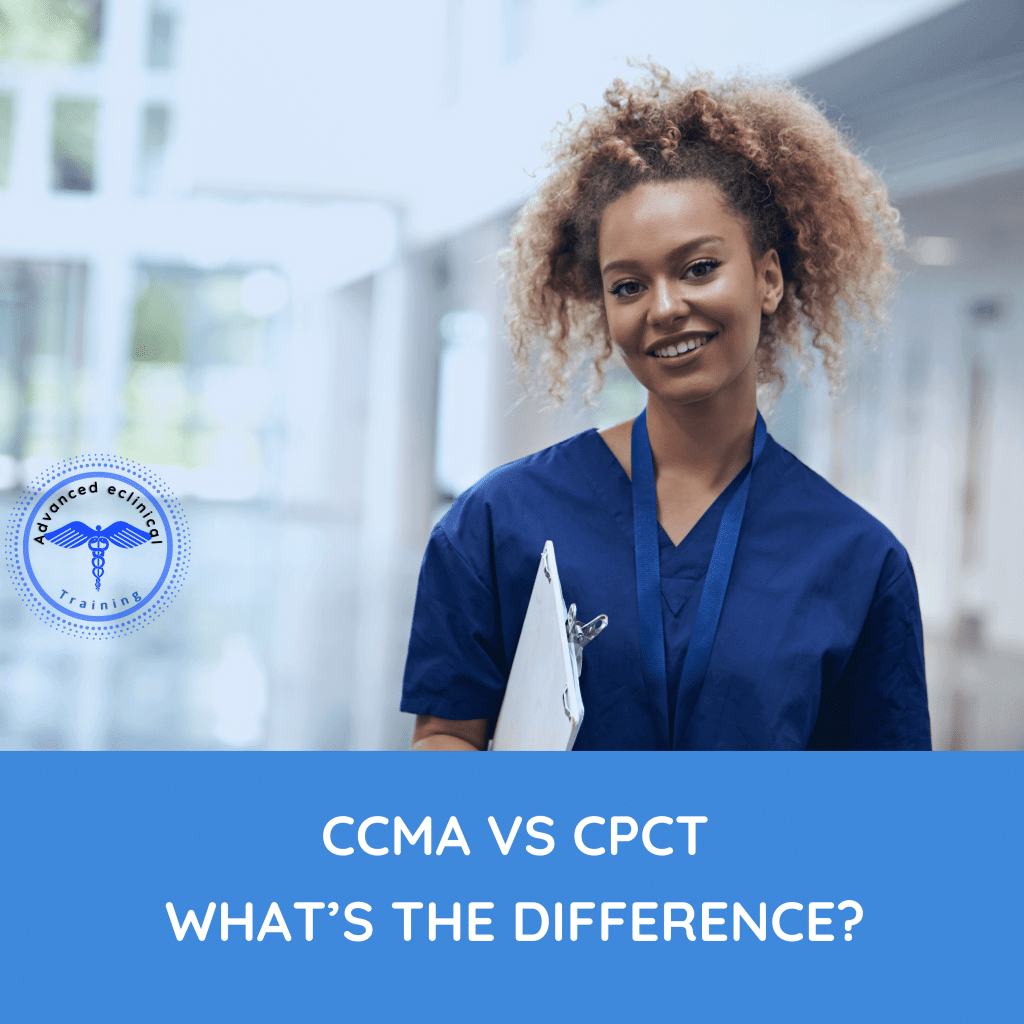 Did you know that the pass rate for the CCMA is only 63% and the pass rate for the CPCT is 71.2%? There is a lot that goes into preparation for these exams. Which certification is better for you?
CCMA or CPCT? This is a question that many people that are interested in entering the medical field are asking themselves as they consider their options in the industry. While both certifications have their benefits, there are some key differences that you should consider before making your decision.
We're going to compare everything about these two certifications, from cost and eligibility requirements to difficulty level and duration. After reading, you'll be better equipped to make an informed decision about which certification is right for you.
Interested in learning more? Keep reading.
CCMA vs CPCT: What's The Difference?
If you're interested in working your way into the medical field, then the first thing you need to know is the difference between these two types of certifications. The main difference between them is their scope of practice and the setting they want to work in.
Additionally, another way to look at it is that patient care technicians have a priority that is always directed to the patient. So, their main duty will always be focused on ensuring proper patient care for those assigned to them.
Think about it this way – a patient care technician will often be in a wider variety of healthcare settings, while an MA will more often be found in a physician's office.
A certified clinical medical assistant (CCMA) can perform clinical duties and administrative duties within their state which may include taking vitals or doing injections under the supervision and dealing with patient records.
While a Certified Patient Care Technician (CPCT) focuses more on duties directed towards patient care such as bathing or feeding, catheter care, cleaning patient rooms, etc. A CPCT will oftentimes have diverse patient care duties as well like monitoring vitals, obtaining EKG readings, and more.
If you're not sure which certification is right for you, then it might be helpful to ask yourself a question. What are the main clinical duties that I would want to perform on a day-to-day basis? If you answer that you want to perform clinical duties and do a fair amount of administrative work, then the medical assistant role might be for you.
However, if you answer that you want to be focused on your patient while working in a fast-paced hospital environment, you should consider the patient care technician role.
Cost, Duration, and Eligibility Requirements
The cost to take either exam will usually cost $155. Both certifications could take up to 200 hours of coursework. To be eligible for an NHA certification exam, you'll need to have graduated from a medical assistant program, completed an approved apprenticeship, or graduated from an approved medical training course in the military.
There are 165 questions and two on the test. You will also need a 360/500 to pass the exam. If you want to become certified to work in both clinical and non-clinical duties, then obtaining your CCMA is a great way to do that.
The CPCT certification has very similar eligibility requirements. You must complete an accredited patient care technician program or have at least six months of experience in related work before taking the exam.
The exam is 100 questions in length, and you need a 390/500 to pass. It takes less than a year to become certified.
There Are Online Options To Get Ahead
With the difficulty that comes with these exams, people are finding success in preparing early and enrolling in a fully accredited online CCMA certification or online cpct certification. Taking an accredited online ccma course can make things more streamlined for you. Let's take a look at some popular options.
Enrolling in an online clinical training and online certification course with Advanced eClinical Training can give you access to the tools you need to prepare for a career as a CCMA or CPCT. The organization focuses on offering an 8-week online medical assistant course that is Self-Paced, along with an online, 8-week, self-paced patient care technician certification course.
Patient Care Technician
When you enroll in the online cpct certification course, you can expect to gain valuable patient care skills in multiple areas. A few topics that you could expect to learn from clinical training online through Advanced eClinical training will include:
Medical terminology, anatomy, physiology, etc.
Basic patient care skills
Understanding EKG readings and vital signs
Phlebotomy procedures
Administering medications
Overall, an online CPCT certification is a great addition to PA, nursing, and medical school applications. At the end of your program, you can expect to have better experience in line with working in emergency rooms, cardiac care units, rehab facilities, hospitals, and intensive care units.
Clinical Medical Assistant
Did you know that the medical assistant careers are one of the fastest-growing occupations? This 8 week online self-paced CCMA training course will prepare you to work in various fields of medicine. These will include:
Surgical specialties
Nursing homes
Hospice care facilities
Hospitals, and clinic settings
Diagnostic testing centers
You can expect to learn quite a few things with this program as well. Some things will be:
Understanding of pharmacology
New laboratory diagnostic techniques
Complying with Healthcare regulations and laws
Understanding human anatomy and basic principles of human disease
Cardiopulmonary testing
This certification is also a great addition to applications for nursing, PA, or medical school. Medical assistants are trained to assist with minor surgical in-office procedures and even preparation for x-rays. They can also remove sutures and conduct wound care.
Which Certification Is Right for You?
If you're considering your career options, the medical assistant certification is good if you want to work in a clinic with experience in both clinical and non-clinical duties. The CPCT certification is perfect if you want to specialize in patient care in a hospital setting. Both of these certifications are nationally recognized and will look great on your resume.
The CCMA certification might be a better fit if you have experience with administration and patient care. While the CPCT certification may be more suitable if you're interested in more of a hospital setting. However, you want to be aware that your duties with either certification will fluctuate based on where you work and their needs.
Get Ahead
If you're looking for a comprehensive and affordable online clinical training program that will prepare you to pass your certification exams, Advanced eClinical Training is the ideal choice. With our self-paced program, you can get all the training you need at your convenience.
Whatsmore is we offer accredited courses that will give you the experience and knowledge you need to succeed in your chosen setting. Ready to get started? Visit us today so we can show you how we'll prepare you.